Dump Trailers
Dump Trailer For Sale in Atlanta GA
Are you looking for the best Dump trailers for sale in the Atlanta Georgia area? Look no further than A&A Center Trailers! Our dump trailers are built to last with heavy-duty materials, designed to meet the demands of even the toughest job sites. From smaller 6x10 7,000 GVWR models to larger 7x14 and 7x16 High Side 14,000 GVWR models, we offer a variety of sizes and capacities to fit all of your hauling needs.
Explore our popular 7x14 Dump Trailer For Sale Atlanta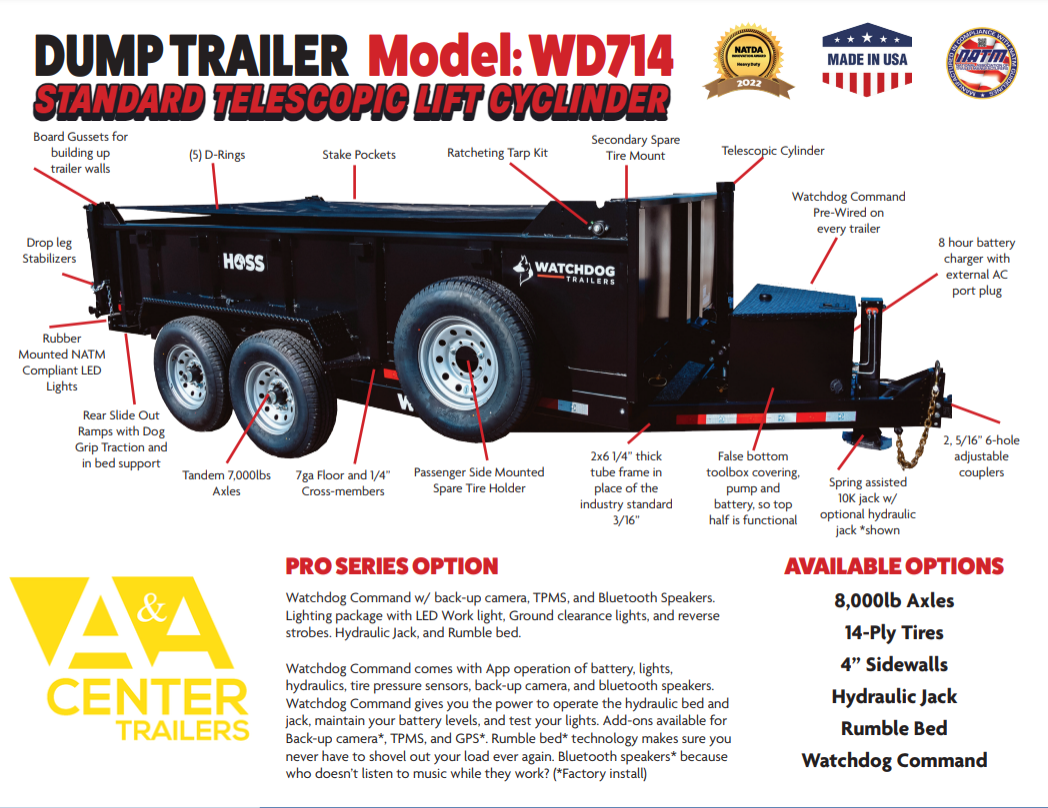 Our dump trailers come with a range of options and features such as tarp kits, high side options, dump/spread/swing gates, remote control, scissor, telescop, dual or single cylinder lifts, and metal locking toolboxes. We offer the perfect solution for a variety of applications, including roofing shingles, rock and mulch delivery, general contractors, skid steer grading, trash out, and recycling.
All of our dump trailers are rated for commercial grade, meaning they are designed to withstand the toughest of job sites. With sturdy construction, and easy-to-use features, our dump trailers will make your hauling experience safe, easy, and efficient.
At A&A Center Trailers, we strive to provide our customers with the best possible shopping experience. Our knowledgeable staff is here to answer any questions you may have and help you find the perfect trailer to meet your needs. Browse our inventory online or visit us at 8834 Tara Blvd Jonesboro GA 30236 to find your next dump trailer. We also offer fast and easy financing options also no credit check rent to own for dump trailers, so don't hesitate to contact us at 770-603-8511 to discuss your needs with our trailer pros. We carry brands such as Homesteader, TuffDump, Watchdog and other top dump trailer manufacturers.
Perfect for:
Roofing

Rock And Mulch Delivery

General Contractors

Skid Steer Grading

Trash Out

Recycling
---
Options and Features available or pre-equipped.
Tarp Kits STANDARD

High Side Option

Dump/Spread/Swing Gates

Remote Control STANDARD

Scissor, Telescopic, Dual or Single Cylinder Lifts STANDARD

Metal Locking Tool Boxes STANDARD

Deep Cycle Batteries STANDARD
Get a Quote
Stock No.
Click to Call
Please enter your name and phone number to get calling options.